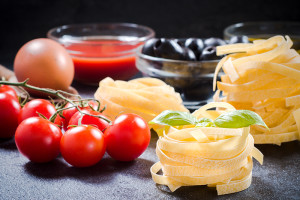 Italian Food Trends of the Summer
— August 24, 2017
Italy's use of fresh (and refreshing) ingredients is what makes Italian food so enjoyable. In the summer months, this is most welcomed as you can have good food that isn't too heavy, but still has amazing flavors. Once again, Italian food is dominating kitchens this summer for that reason.
Regional Pasta
Pasta is synonymous with Italian food. We're all familiar with pastas like spaghetti and penne, but more regional pastas are making a comeback. Candele, traditional of Southern Italy, are long tubes that go great with a pork ragu. Ziti is another regional pasta, from Northern Italy, that is like shorter, thick tubes. Baked ziti is a favorite.
Balsamic Vinegars
There are many different flavors of balsamic vinegars available, and many can be picked up easily at your local supermarket. You can try some with a fruity twist, like strawberry balsamic, to a salad to give it that delicious summer taste.
Limoncello Drinks and Desserts
Limoncello is a refreshing lemon liqueur. It is best served after dinner as a means of helping digestion and refreshing the palate. You can make your own limoncello easily, or use the invigorating Sicilian or Sorrento lemons to make a light and scrumptious lemon drizzle cake.
Smoked Cheese, Tomatoes, and Peppers
To serve along your antipasti, why not consider smoking some cheeses, tomatoes, and peppers? The smoke doesn't need to be heavy to bring out a lot of flavor.
Provolone Cheese
The older the better when it comes to provolone cheese. Choose an aged provolone (around 24 months) for some rich, nutty flavor.
Parmesan
Parmesan can be the finishing touch to most Italian dishes. It is traditionally aged, and the older it is, the more mature it will be, giving a strong taste that completes the meal.
Guanciale
Try this cured meat in your next spaghetti carbonara. This meat comes from the pork cheek or jowl and is very flavorful. The fat melts away but the flavor is left along with pieces of tender meat.
'Nduja
This is a spicy sausage paste that is becoming more popular on menus, often in place of traditional tomato sauce. If you like a bit of a heat kick, then this expertly seasoned paste will be worth trying.
Polpette
These are giant meatballs that can be eaten any way! In pasta, sandwiches, rice, or even on its own, polpette is a very popular choice for both lunch and dinner.
Sourdough Pizza
Many pizzerias in Italy ferment their dough for at least 24 hours before cooking and serving. This make for an excellent sourdough base that is lighter and easy to digest.
Italian Street Food
Italian Street food like arancini balls (rice with meat or mozzarella that is then fried) or spaghetti cakes (fried spaghetti then cooked in a tomato sauce) are tasty Italian traditions. They're easy to cook and will make great additions to Italian food summer nights.

With all these fresh ingredients use, you will want an excellent cutting board to chop on. Wood Cutting Boards offer high quality cutting boards that can also be engraved. Using a cutting board from Wood Cutting Boards ensures your countertops are kept looking great and knives stay sharp while you slice and dice away for that delicious Italian dish. Want to take it up a notch? Serve some of your Italian dishes to your guests on a wood cutting board for that great rustic Italian feel.

This site is protected by